Christian Stadlhofer
Director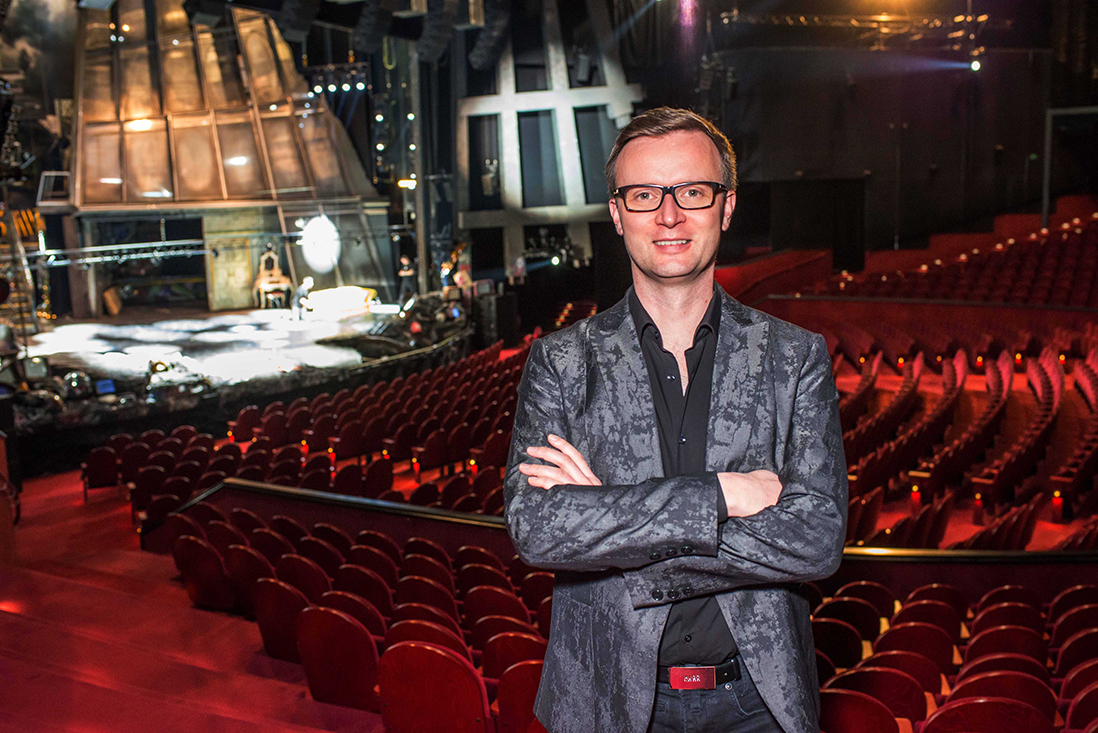 Christian Stadlhofer is a director, actor and musical theater performer born and raised in Styria, Austria. From an early age he demonstrated a decided interest for the stage, participating in numerous school and high school musical theater productions. He pursued his studies in performing arts and graduated from the Musical Theater Department of the renowned Folkwang Universität der Künste in Essen, Germany.

His professional career as a performer has brought him to stages in all German-speaking countries and regions of Europe: Austria, Germany, Switzerland, Luxemburg and South Tyrol.

Parallel to his performing career, he kept close ties to his Austrian high school Alma Mater, BORG Kindberg, directing and choreographing highly acknowledged productions of JESUS CHRIST SUPERSTAR, WE WILL ROCK YOU, GREASE, CABARET and CRAZY FOR YOU.

From 2008 to 2011 he played the fearless vampire killer Professor Abronsius in Roman Polanski's DANCE OF THE VAMPIRES in Oberhausen and Stuttgart. His interpretation of this demanding role was enthusiastically acclaimed by critics and audiences in both cities.

2013 brought a substantial change in Christian's career, focusing more on direction and choreography. Since then he has directed for the Murx Theater in Eppan Jason Robert Brown's THE LAST 5 YEARS and Georg Kreisler's HEUTE ABEND: LOLA BLAU, both being South Tyrolean first productions. Further direction credits include Dan Goggin's NUNSENSE and the world premiere of Mario Stork's rock opera EIN LIED VON FREIHEIT. Simultaneously he has had the opportunity to assist famous musical theater directors like Gil Mehmert and Melissa King in their stagings of HAIR, SUNSET BLVD., SINGIN' IN THE RAIN and HAIRSPRAY. These productions brought him to the stages of the Staatstheater Nürnberg, Munich's Gärtnerplatztheater and the Dortmund Opera. In 2015 he co-directed with the German musical theater star Hardy Rudolz a very successful tour production of Cole Porter's KISS ME, KATE. A year later, again in co-direction with Rudolz and choreographer Vanni Viscusi, he created one of the first free stagings of Andrew Lloyd Webber's CATS for the Luisenburg Festival. This production broke the box office records as the highest selling production in the 127-year history of the oldest open-air theater festival in Germany.

Christian is also very involved supporting young musical theater talents offering workshops and working together with the organization Initiative Uptempo. His show MUSICAL ACADEMY in August 2017 and 2018 at the Capitol Theater in Düsseldorf was a huge success with both press and audience.

Christian Stadlhofer is one of the few present directors whose work encompasses both the musical theater and the opera stages. From 2015 to 2017 he has assisted Katharina Wagner in her production of Richard Wagner's TRISTAN UND ISOLDE at the Bayreuth Festival. In 2018 he helped Yuval Sharon and Neo Rauch create their Bayreuth production of LOHENGRIN. Further international opera projects have taken him to the Prague National Theater and the New National Theater Tokyo.

In October 2017 he sent off his production of the iconic musical GREASE on a European tour to more than ten major cities in Germany, Switzerland and Austria. From 2018 until the theater's closing in 2020 Christian was the Resident Director of the Stage Metronom Theater in Oberhausen. Since 2020, he has been teaching in the Musical theater program at Osnabrück University of Applied Sciences, where he staged the German-language premieres of RUTHLESS! and SOHO CINDERS. Christian also works and directs for the renowned summer festival Schlossfestspiele Ettlingen.
photo: Winkler Fotografie